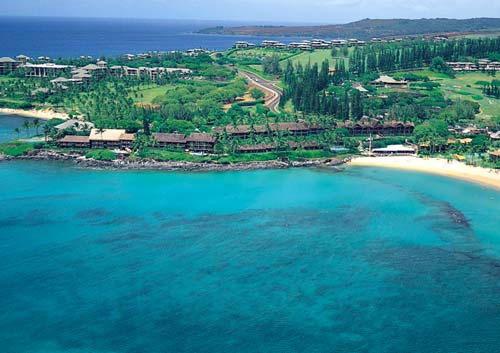 We flew to Kahalui, Maui on Monday. Left LA around 11am and arrived in Maui around 2pm. The weather Monday afternoon and Tuesday was scattered showers. On Wednesday the winds blew up to 50mph. We were really unable to do anything that day. We ended up driving back to Kahalui and buying several DVDs at Costco. We spent the afternoon in our room drinking wine and watching movies.
We stayed at the Napili Kai resort. Napili Kai is about 20 minutes north of Kaanapali on Napili Bay. The Napili Bay has rules that the tallest building can only be 2 stories high. This makes for a beautiful very tropical resort area and avoids the high-rise crowds. The rooms are large and include kitchenettes. They do not have ovens. You can also just walk across the parking lot to the Kapalua Beach or the Kapalua Bay Course. You can see the golf course on the right of the picture.
This resort is a little pricey, but clearly a superior place to stay. Evenings are very quiet here. If you are into night clubs or partying in the evenings you would probably be better off staying down in the Kaanapali area. That way you could walk to several clubs, have a few drinks during the evening and then walk back to your room.
We even cooked a couple of dinners in our room and then sat out on the Lanai to watch the sunset.
November thru February are the wet months in Hawaii so the weather can be iffy. However, we could stand on the shore and watch whales spouting or breaching in the ocean. Definately a highlight.