Tauck River Cruise
May 7-15
Nuremburg to Budapest
Return to Colling Home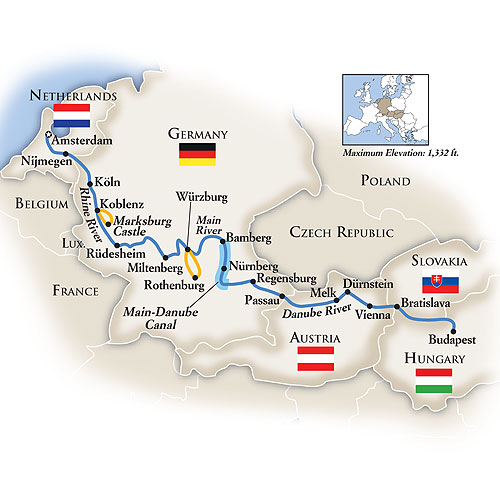 Itinerary
Friday - May 6
Fly LAX to Munich to Nuremburg
Arrive in Nuremburg early evening. On our own for dinner

Saturday - May 7
Nuremburg
Board River Cruise at Nuremburg
Tour Nuremburg with lunch in town.
Sunday - May 8
Regensburg and on to Passau
Stop in the well-preserved medieval town of Regensburg, once a campsite for the Roman legions. On a walking tour with our local guide, you'll see the Steinerne Brücke, a medieval stone bridge over the Danube that's the oldest in Germany; Altes Rathaus, the 15th-century town hall that was once the seat of the Imperial Diet; and Dom St. Peter, the town's towering Gothic cathedral. After exploring Regensburg as you please this afternoon, cruise along the Danube to Passau.
Monday - May 9
Explore Passau and then cruise to Melk, Austria
The riverboat docks in the port city of Passau, dating way back to Roman times.Spend time exploring this lovely Bavarian town – well-known for its Baroque architecture including unique four-story homes, scores of churches and marvelous stained glass – on a walking tour. Listen to commentary from your Tauck Director, or perhaps take advantage of activities such as a galley tour, as you continue your Danube, Main and Rhine cruise in the afternoon, bound for Melk, Austria.
Tuesday - May 10
Melk, Explore the Abbeys and Castles
Your next destination is the town of Melk, Austria, where you'll step back in time on a guided tour of its 900-year-old Benedictine Abbey, perched on a rocky outcrop above the river. Inside this Baroque masterpiece are fine frescoes, early manuscripts, and a high altar. Enjoy views of medieval castles while cruising through the Wachau Valley to picturesque Dürnstein; stroll along its twisting lanes on a walking tour, and, if you wish, walk up to the hilltop ruins of a castle where King Richard the Lionhearted was held for ransom during the Crusades – the vistas are simply spectacular! A wine-tasting in a local restaurant and dinner back on board cap a delightful day.
Wednesday - May 11
Vienna, Austria
Get an overview of Vienna, Austria's capital and one of Europe's greatest cities, with a morning sightseeing tour of this historic former capital of the Habsburg Empire. Take your choice of a tour of Schönbrunn Palace, built to rival Versailles, or a guided visit to the Imperial Silver Room inside the Hofburg, the Habsburgs' former Imperial palace that today is the official residence of Austria's president. Tonight, a Tauck Exclusive – a private, gala Imperial Evening at a traditional palace in Vienna, featuring a sumptuous dinner and live Viennese music – just might sweep you off your feet!
Thursday - May 12
Bratislava, Slovakia
Arise dockside in Bratislava, capital of Slovakia, where 17 centuries of history are chronicled on a walking tour led by a local guide. Highlights include Baroque palaces from the Habsburg era, along with St. Martin's Cathedral, the Opera House, Slovak Philharmonic Hall, and a visit to Old Town Hall. Please join the Captain and crew to celebrate the conclusion of your splendid Danube, Main and Rhine cruise with a special farewell cocktail reception, dinner and musical entertainment aboard your riverboat tonight.
Friday - May 13
Budapest, Hungary
Tauck's memorable Main, Danube and Rhine cruise arrives at your final destination – Budapest, Hungary's remarkable capital set on both sides of the Danube River. You'll explore both the Buda and Pest sections of the city on a sightseeing tour, viewing Heroes' Square, bounded by some of the finest architectural works in Hungary; the Parliament building, a Neo-Gothic masterpiece; and Fishermen's Bastion overlooking the Danube.
Saturday - May 14
Diesmbark in Budapest
Sunday - May 15
Day on our own in Budapest
Monday - May 16
Spend the day traveling home.
This is a 14 day cruise originating in Amsterdam. We joined the cruise in Nuremburg with a number of other Travel Agents. The cruise was fantastic and the Tauck personnel were wonderful. Bill and Janet were our Tauck hosts, Lynn was the Tauck Tour Director. She was a stickler who made sure that everything happened correctly and on time. We had three knowledgeable and personable Tauck tour guides in Sara, Mary and Gloria.
While all the sites were wonderful the highlight had to be the dinner in Vienna. Before dinner there was a string trio, violin, cello and piano. During dinner this becake a septet with the addition of another violin, a flute, a viola and a bass fiddle. There were two opera singers, tenor and soprano and two ballet dancers who performed throughout the dinner. Dinner was in a small room where Mozart, Beethoven and Strauss had all performed.
It was interesting to hear how much history was lost during WWII. For example 75% of Budapest was destroyed by the Allied bombings and the German occupation and retreat,
The German and Austrian biers were wonderful. Thats good because we certainly drank anough of them. Durnstein and Budapest were more wine oriented.