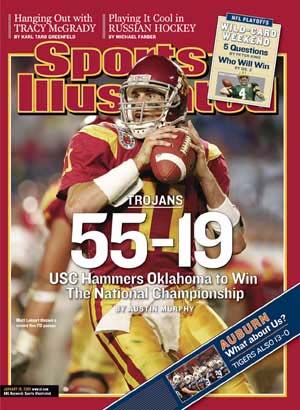 Nobody asked but here is my assessment of the 2005 Orange Bowl. Be aware that this is from a retrospective viewpoint.
USC - Oklahoma Box Score
Overview: USC and Oklahoma had been ranked 1,2 all season long. Auburn also had an unbeaten season but somehow ended up 3rd to these teams. Going into the game USC was favored by 1.5pts yet all the "experts", including myself, predicted an Oklahoma win. Conventional thinking was the huge OU offensive line would wear down the smaller, quicker USC defense and Adrian Peterson would own the 2nd half.

Oklahoma - Last year OU had been a one dimensional offense of Jason White, the 2003 Heisman winning quarterback. In 2004 Adrian Peterson came along and had the best freshman season ever for a running back. Peterson was big, strong and fast. He was the type of back that punished teams and got stronger as the game wore on. The offensive line was probably the best unit this side of the NFL. Jamaal Brown was the Outland trophy winner. Two others on the line were on several all American teams. The defense, as always under Bob Stoops, was fundamentally sound and let by All-American Dan Cody. Earlier in the season they seemed to have some issues with the pass coverage but the return of Antonio Perkins and the insertion of freshman Marcus Walker had silenced those critics by allowing only 6 total points in their last 3 games.
USC - USC started out this year with an All-American defense led by Shaun Cody, Mike Patterson, Lofa Tatupu and Mike Grootegoed. The front seven were as strong a unit as existed. The secondary could be picked on, if you could give your QB enough time. Pete Carroll's defensive schemes always emphasized pressure and stop the run. Everything else would follow from that. The pressure philosophy had resulted in USC leading the nation in turnovers in 2003 and 2004 and being in the top 5 for turnover margin in the last 4 years. Pressure made the offense make decisions before they were ready. If they made the right one we gave up some yards, if not we got a turnover. The offensive backfield was led by Matt Leinart, Reggie Bush and Lendale White. The season started with an entirely rebuilt offensive line that had many question marks. The loss of Mike Williams and Kerry Colbert meant our receiving corps was new and untested. Freshman Dwayne Jarrett started the season dropping more passes than he caught. Steve Smith broke a leg and missed most of the season. Fortunately, Smith came back from injury and because of the thin receiving corps the ball was forced to Jarrett a lot and he matured and became a force.
What Happened - It turned out the USC speed on defense negated the size and ability of the OU offensive line. Adrian Peterson never got any clear running lanes and ended up with 82 yards in 25 carries. He was not a factor. The USC pass rush and sophisticated blitz packages kept pressure on Jason White and he made mistakes, throwing 3 interceptions. He ended up completing 24 of 36 passes, but for an avg of only 6.4 yards per completion. Mark Bradley, a 5th year senior, made an inexplicable error on special teams by trying to field a bouncing ball on a punt, surrounded by USC defenders. He was immediately hit, fumbled and recovered by USC on the 6 yard line. The USC offense had two objectives, rush up the middle and pick on the freshman cornerback, Marcus Russell. The USC offensive line had matured throughout the season and provided plenty of time for Matt Leinart to hit receivers deep and to open holes up the middle for Lendale White. The USC offense proved almost unstoppable for Oklahoma. They scored on 8 of their first 10 possessions.
Stars of the Game
OU - Dan Cody was the only impressive OU player.
USC:

| | |
| --- | --- |
| Matt Leinart | 18 of 35 for 332 yds, 5 tds |
| Lendale White | 15 carries for 118 yds |
| Steve Smith | 7 receptions, for 113 yds, 3 tds |
| Dwayne Jarrett | 5 receptions for 115 yds, 1 td |
| USC Defense | Shut down OU rushing attack and delivered 4 turnovers |
The Game
First Quarter - USC received the opening kickoff and immediately tried several Reggie Bush plays to see how OU was going to defense him. USC got one pass completion to Reggie for 31 yards but then had to punt. OU got the ball on their 10 and immediately marched down the field for an apparently easy touchdown. An after the fact review showed the USC defensive strategy that was to pay off later. There were a couple of key 3rd down plays during the drive. On one Jason White was forced to scramble to his right, he then throw across his body to a receiver in the middle of the field for a first down. The next key third down play had Jason White completing a pass with the USC pass rush in his face and hammering him into the ground. Both of these plays showed pressure and led later to the turnovers. USC took the ensuing kickoff, promptly marched the length of the field and scored the touchdown on a spectacular catch by tight end, Dominique Byrd, for a 33 yard touchdown pass. On OUs next possession USC got a personal foul to move OU onto the USC side of the 50. Now the USC pressure paid off as jason White made a terrible judgement by throwing a lame duck down the middle to a receiver with 4 defenders around him, USC intercepts and have a first down on the 12 yard line. USC moves the ball out to midfield before punting. Mark Bradley then makes a horrible decision to field the bouncing punt on about the 4 surrounded by USC defenders. USC tackles him, he fumbles and USC recovers on the 6. Next play Lendale White powers up the middle for a touchdown. First Quarter ends with USC leading 14-7
Second Quarter - USC stops OUs first possession. They rush Lendale White for couple of first downs and then attack OUs freshman corner on successive plays with Dwayne Jarrett. The result is a 54 yard pass for a touchdown. More pressure on White forces a pass thrown behind the OU receiver, USC intercepts and returns it to the OU 10. This results in a 5 yard TD pass on a nice catch by Steve Smith. Ou takes the kickoff, completes a few passes and earns a field goal. To stop any idea of a comeback USC then goes 79 yards in 4 plays, highlighted by a spectacular catch by Steve Smith for a 33 yard touchdown. With OU just trying to run out the clock Kejuan Jones fumbles to give USC another 3 points just before the half. Half time and USC leads 38-10.
Second Half - With the game all but decided USC punctuates the victory by scoring 17 more points to lead 55-10 before giving up a safety and an OU touchdown to the USC reserves.
Final Score - USC 55 OU 19